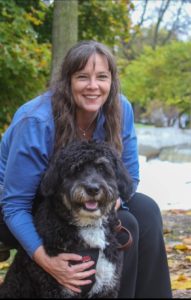 Janet Larson
I Am An Intuitive Massage Therapist ~ Healing You By Touch
I have lived in Northville for over forty years and I'm so grateful that my business is also a part of this wonderful community. Growing up on a farm in rural Northville, I have learned the value of hard work and a strong work ethic, which I have brought forth into my business.
I have always felt it was my purpose in life to be a caretaker, which is why I worked as a childcare provider for over 15 years and a certified nursing assistant for 10 years.
While most of us search for fulfillment in life and work, and after being a caregiver and certified nursing assistant for years, it wasn't until I experienced the healing benefits of massage that I knew I had found my life purpose and the ability to help many more people feel better.
I have been a licensed massage therapist since 2011 and a certified reflexologist since 2014. I strive to improve my skills by taking continuing education classes on a consistent basis. This ongoing training gives me great satisfaction and helps me to improve my techniques in order to provide better care for my clients.
I continue to be amazed at how each one of my clients is being helped with their various health challenges by massage or reflexology, or at minimum lowering their stress levels. Stress can be the contributing factor in up to 90% of health challenges that occur in people.
My massage sessions include blending my intuitive insight and therapeutic knowledge, which allows each client to experience a personalized treatment giving them the outcome they are looking for. I specialize in Intuitive Massage because I enjoy personalizing each session. A consultation with each of my clients at the beginning of each appointment gives me the information necessary to properly customize your massage.
Earning your trust and respect fuels my purpose and passion! It is my honor to help you feel fantastic in your own skin!
Healing By Touch
133 W Main St, Suite 267
Northville, MI 48167